---
Teresa Flores
Practice Administrator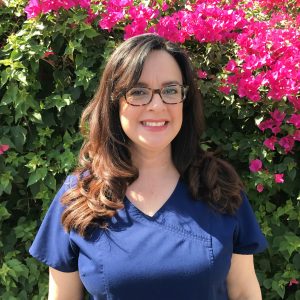 Teresa has been in the chiropractic field for over 20 years.  Her experience and extensive knowledge not only provides administrative support to her team at Maloney Chiropractic Clinic but also to its patients.  With every patient encounter, she seeks to give her best and utmost in finding solutions for their needs. When Teresa is not in the office, she is out marketing to insurance companies, doctors and attorneys informing them of the benefits of chiropractic. Teresa is a native of California and a graduate of UC, Santa Barbara.  Teresa enjoys hanging out with her husband and son, traveling and trying out new restaurants around the valley.
---
Ana Gryssel Villegas
New Patient/Clinical Assistant and Rehab Supervisor

Ana originally grew up in Nogales Arizona; she then moved away to attend college in Phoenix where she studied Exercise and Wellness. Ana is passionate about her patients' concerns and outcomes. She uses her attention-to-detail to focus on gathering all the data she can find to best assist her patients and help plan a program for their successful recovery.
In her spare time, Ana enjoys good company, great gym sessions, listening to music, target practicing at the shooting range, traveling, and seeking adventures in the outdoors. She is also especially enthusiastic about dogs and pizza!
---
---