Is your child's backpack actually harming his or her health?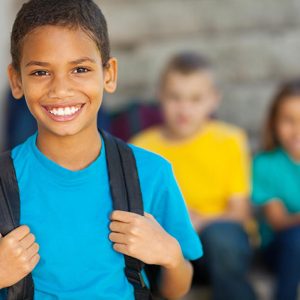 When we think of sending our little ones off to their first day of school it seems to symbolize growth and development. However, the load on your child's back may actually be harming these exact things. If a child's backpack is too heavy, they will adjust their posture in order to compensate for the weight. In doing so, it puts stress and strain on their muscles and joints causing spinal misalignment. This can lead to back pain, shoulder pain, and poor posture. More still, if the straps of the backpack are too narrow, it may cut off a child's circulation and lead to numbness and tingling in their arms and hands.  
         Because children are rapidly growing in this period of their lives, it's very important in this time of change to be cautious about increasing the stress on your student's spine. So here are some tips to keeping the weight of your child's backpack safe and manageable for them!
What to Look For When Choosing A Backpack:
Find a backpack that has TWO, WIDE shoulder straps (preferably with padding) AND waist or chest straps

Make sure your child is using the waist or chest straps if the backpack has them

Find a backpack with multiple compartments to help distribute the weight of the contents of the backpack

Don't choose a backpack that will have a lot of extra room – odds are your child will fill the empty space
Healthy Backpack Habits:
Be sure that the backpack does not hang below the child's low back

Check backpacks regularly to make sure they are not filled with unnecessary items

Always use both straps!
What's The Right Weight For A Child's Backpack?
A backpack should weight anywhere between 10% and 15% of the child's body weight.
Check out our chart below to see what the ideal backpack weight would be according to your child's weight!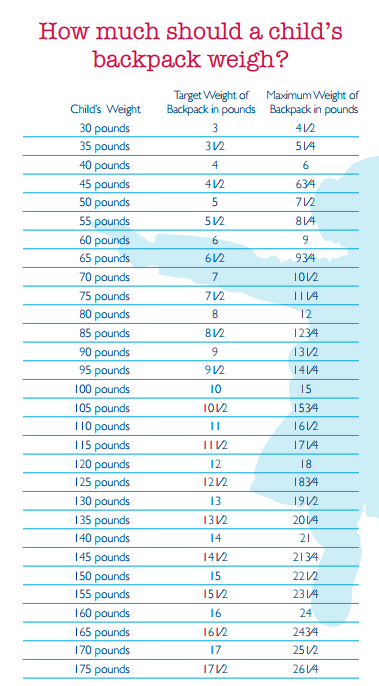 We hope that this helps you determine the best weight for your child's backpack and keeps them happy, safe, and healthy throughout the school year!
–
Mark your calendars! National Backpack Awareness Day is right around the corner on September 20th!
---
References: 
http://kidshealth.org/en/parents/backpack.html
https://www.fhsportsmed.com/sites/default/files/SMR-11-2743_noCrop.pdf
http://www.nsc.org/learn/safety-knowledge/Pages/backpack-safety-for-kids.aspx