Toy Drive
We are so excited about the impact our Food Drive made. (179 pounds donated! Thank you everyone!)
But we thought, why stop there?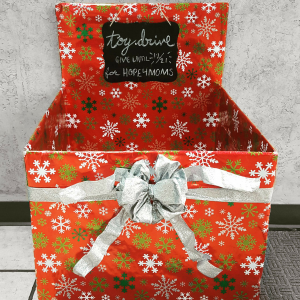 We will be hosting a Toy Drive this month! You can make a donation of a new and unwrapped toy at our location
(patient or not) between NOW
and December 21st!All toys will go to families through Hope4moms.
You can learn more about this organization by looking at our blog post entitled "The Story of Hope4moms" or by checking out our note on Facebook! (Click here to be taken to Facebook.) 
Here are some great examples of gifts for the children of Hope4moms:
Teething Toys

Rattles

Baby and Kids Books

Baby Dolls and Clothes

Toy Strollers and Baby Bottles

Hot Wheels and Match Box Cars

Action Figures

Duplo Blocks

Lincoln Logs

Legos

Tinker Toys

Barbies

Barbie Clothes and Accessories

Sports Balls

Skooters

Skateboards

Puzzles

Board Games

Makeup Kits




Hair Dryer, Curling Iron, Straightener
Thank you! And Happy Holidays!